Organic Vegetable Seed Production & Varietal Selection Workshop
Date: August 22, 2017, 9:00 am – 3:00 pm.
Location: Daniel Turf Center, 1340 Cherry Ln, West Lafayette, IN, 47907.
Registration: http://tinyurl.com/y7da7dsh
Topics include Seed biology fundamentals; Harvesting, processing, and storing seed; Population size and isolation requirements; Managing pathogens during seed production and after harvest; On-farm variety trialing and participatory breeding techniques. Registration fee is $15 including workshop and lunch.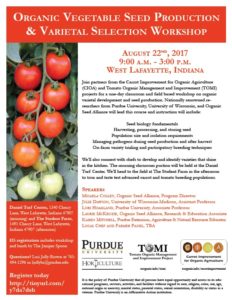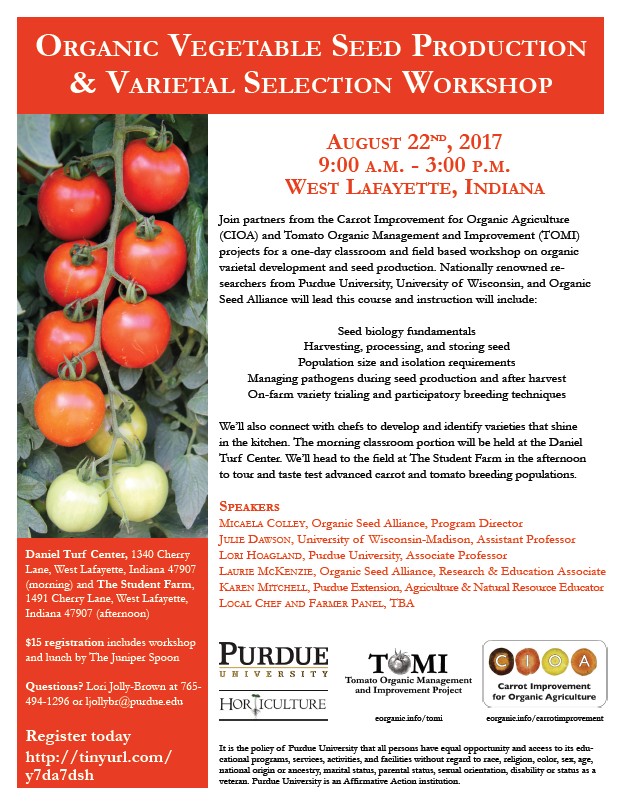 Hydroponics Workshop II
Date: Sep 8, 2017, 7:30 am – noon.
Location: WSLR 116, Horticulture & Landscape Architecture 170 S. University St. Purdue University West Lafayette, IN 47907
Registration: http://tinyurl.com/yb4dnwrh For further questions contact Lori Jolly-Brown, ljollybr@purdue.edu, 765-494-1296
In this workshop, you will learn about:
LED lighting for winter produce in greenhouses
Things to know about successful production in 'vertical or indoor farms'
Biological control of insects
Fertilizer recipes and injectors
Ongoing research in our greenhouses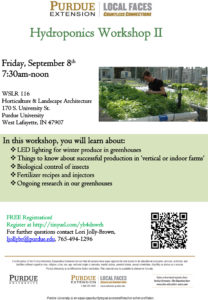 Midwest Mechanical Weed Control Field Day
Date: Sep 26, 2017, 10:00 am – 5:00 pm.
Location: Michigan State University Horticulture Teaching and Research Center – 3291 College Rd, Holt, MI 48842
Registration: The fee for the field day and lunch is $15. Register before September 15th. More information and Registration of the field day is available at http://msue.anr.msu.edu/events/midwest_mechanical_weed_control_field_day 
 Beginning Farmer Tours and Workshops
Join Purdue's beginning farmer team for farm tours in 2017.
September 11. Tour Little Prairie Farms, a small acreage vegetable farm near Brookston, IN, and the Purdue Student Farm near West Lafayette to learn about farming practices and tools for small acreage farms.
September 27. Full Hand Farm is a diverse vegetable farm located near Noblesville, IN. The tour will include information on the use of high tunnels in vegetable production.
October 2. Aficionado Farms produces organically grown produce, herbs, and flowers near Elberfeld, IN. Learn about their farm and Farm to School programs.
More information about these tours are available at http://www.cvent.com/events/beginning-farmer-tours-and-workshops/event-summary-0f7526f0380a432788708b2f2edcf1e7.aspx