Hydroponics Workshop II
Date: Sep 8, 2017, 7:30 am – noon.
Location: WSLR 116, Horticulture & Landscape Architecture 170 S. University St. Purdue University West Lafayette, IN 47907
Registration: http://tinyurl.com/yb4dnwrh For further questions contact Lori Jolly-Brown, ljollybr@purdue.edu, (765) 494-1296
In this workshop, you will learn about:
LED lighting for winter produce in greenhouses
Things to know about successful production in 'vertical or indoor farms'
Biological control of insects
Fertilizer recipes and injectors
Ongoing research in our greenhouses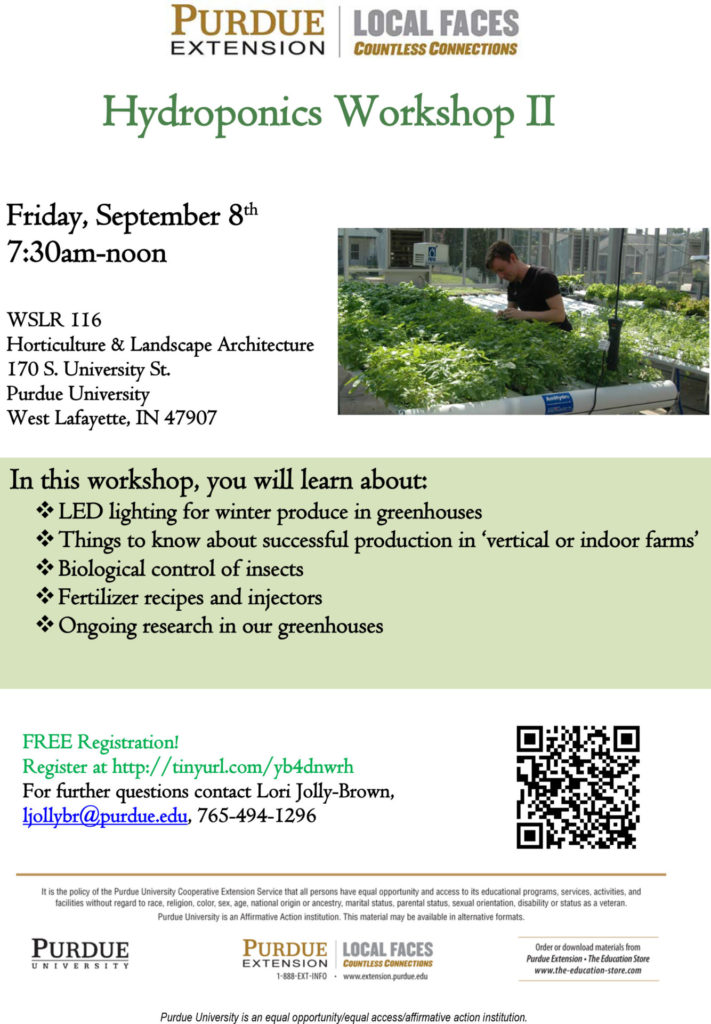 Beginning Farmer East Regional Workshop
Date: Oct. 28, 2017, 8:30 am – 4 pm.
Location: Randolph County Fairgrounds, 1885 U.S. Route 27, Winchester.
Attendees for this workshop can learn about:
Business planning
Pasture management
Fruit and vegetable pest management
Pastured poultry
Greenhouse and high tunnel management
Marketing products
Purdue Extension experts will be available to discuss and answer questions. Cost is $10 and lunch will be provided. To register or find more information about the next four regional workshops, go to www.conf.purdue.edu/BegFarmerTours.
Midwest Mechanical Weed Control Field Day
Date: Sep 26, 2017, 10:00 am – 5:00 pm
Location: Michigan State University Horticulture Teaching and Research Center – 3291 College Rd, Holt, MI 48842
Registration: The fee for the field day and lunch is $15. Register before September 15th. More information and Registration of the field day is available at http://msue.anr.msu.edu/events/midwest_mechanical_weed_control_field_day 
Second National Conference on Cover Crops & Soil Health
Date: Dec 7-8, 2017
Location: Sheraton Indianapolis at Keystone Crossing, 8787 Keystone Crossing, Indianapolis, Indiana 46240, USA
The conference is intended for anyone interested in the practical use of cover crops and soil health improvement, including farmers; conservation agents; certified crop advisers (CCAs) and agribusiness staff; and university, nongovernmental organization (NGO), and agency representatives. 
Headliners for the conference include:
Keith Berns, a nationally known Nebraska farmer on the topic of carbonomics

David Montgomery, a geologist and popular author on soils and erosion, whose latest book is titled Growing a Revolution: Bringing Our Soil Back to Life

Dan DeSutter, a grain farmer from the central Corn Belt and a long-time no-tiller and cover crop user

Trey Hill, a grain farmer from the eastern Corn Belt and also a long-time no-tiller and cover crop user

Jimmy Emmons, a rancher and grain farmer from the Southern Plains, who grazes cover crop
More information about the conference and registration is available at http://www.swcs.org/en/conferences/2017_national_conference_on_cover_crops/