2018 Indiana Small Farm Conference
Date: March 1-3
Location: Hendricks County Fairgrounds, Danville, Indiana
The 2018 conference in Danville, Indiana begins with a series of daylong workshops on March 1. Topics include on-farm fresh produce food safety, regenerative farming with livestock and agroforestry, farm viability and financial management, and a four season farm tour. Breakout sessions on March 2-3 will cover topics ranging from vegetable and livestock production to farm management and marketing. Participants will have an opportunity to network with Extension educators, expert speakers, other farmers and vendors. The complete list of speakers will continue to be updated as presenters become finalized. The Small Farm Trade Show takes place on March 2-3 where more than 50 vendors will showcase their products and services. The Small Farm Poster Session on March 3 will feature research and programs on local foods, diversified agriculture, and small farm production and education.
Detailed information about 2018 Indiana Small Farm Conference is available at https://www.purdue.edu/dffs/smallfarms/home/small-farm-conference-2018/ 
Michiana Vegetable, Fruit & Flower Growers Meeting
Date: March 8, 8:30 am to 3:30 pm
Location: Elkhart County 4-H Fairgrounds. 17746 County Rd 34, Goshen, IN
Commercial vegetable, fruit and flower growers are invited to gain valuable knowledge from experts at the Michiana Vegetable, Fruit and Flower Growers' meeting in Goshen, IN on March 8. The program will include educational sessions, lunch and a trade show. Topics will include disease and insect updates, greenhouse production, grape and bramble production and vegetable production.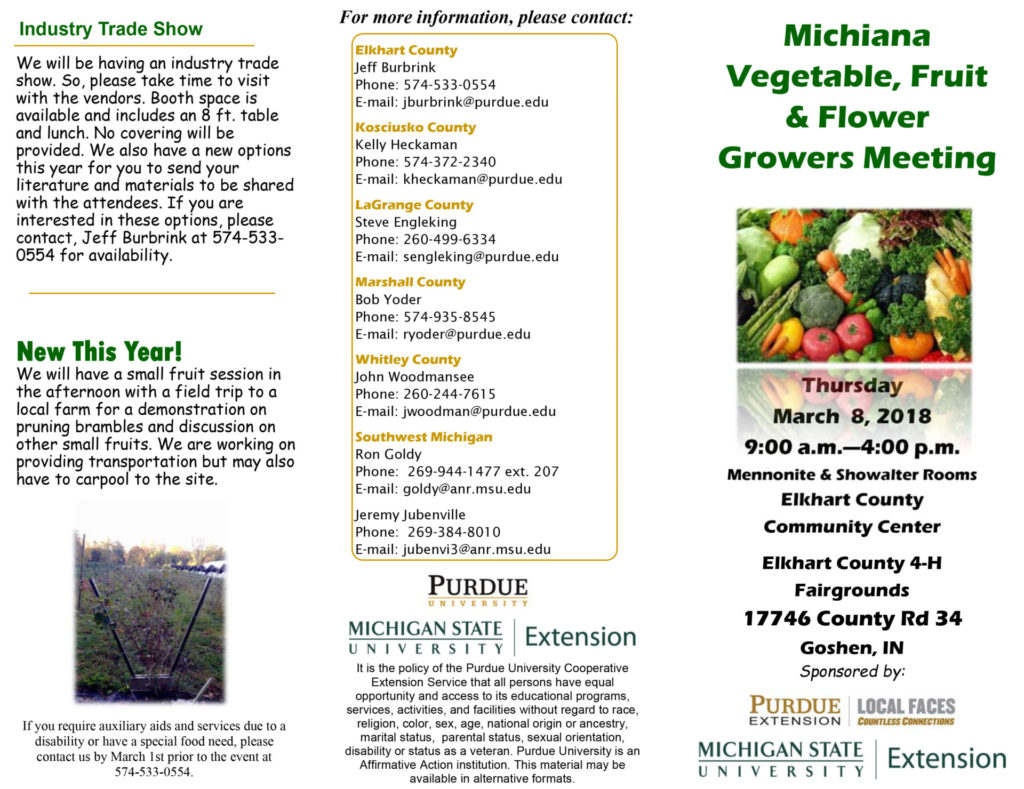 Southwest Indiana Melon & Vegetable Growers Association Meeting
Date: March 9
Location: French Lick Resort & Casino. 8670 W. State Rd. 56 French Lick, IN 47432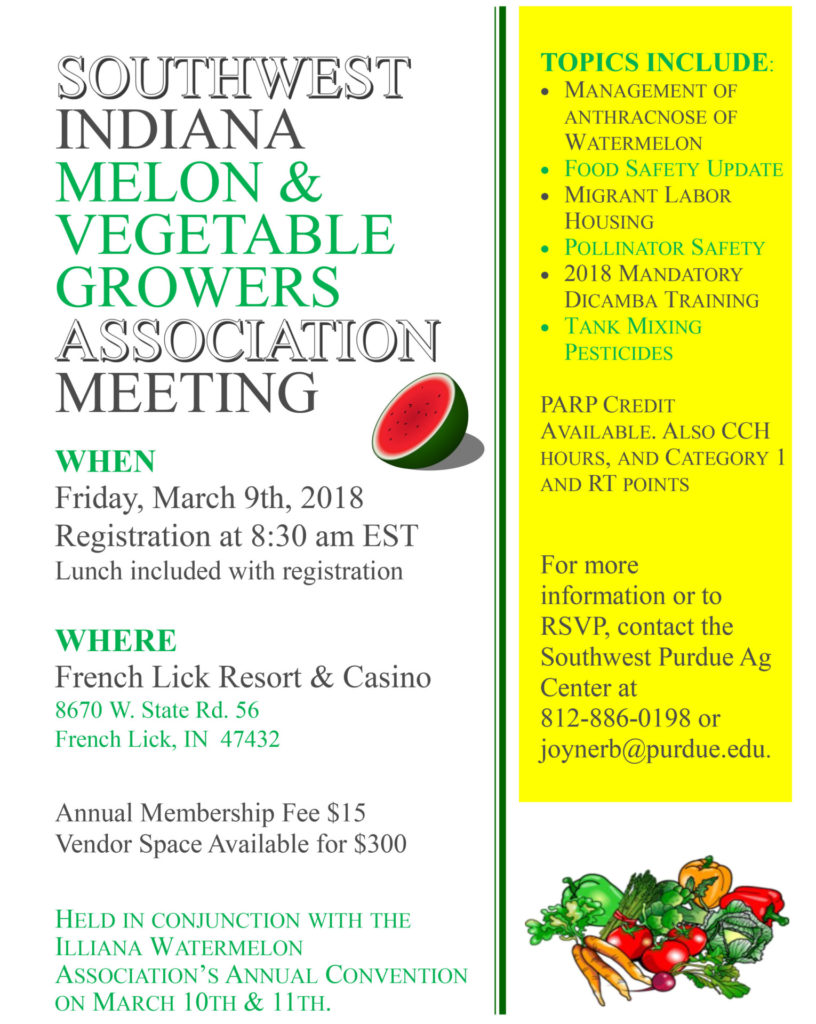 2018 Starlight Vegetable Growers Meeting in Borden/Starlight, IN
Date: March 15
Location: Barnyard Bash II building at the Joe Huber Family Farm and Restaurant (2421 Engle Rd., Borden, IN 47106)
This annual educational program will begin with registration from 5:30 pm to 6:00 pm, followed by dinner and the program presented by Purdue Extension specialist and educators.  The program is for anyone with an interest in producing quality vegetables. The program fee for this event is $10 per person. Please pre-register for this event by March 9th.
Credits will be available for those folks in attendance who hold a Private Pesticide Applicator Certification. Anyone wishing to receive PARP credit will pay a $10 charge and should bring their license.  Commercial Pesticide CCH's in category 1, 3a, and RT can also be earned by participants that attend this program.
Pre-registration before March 9, by calling the Floyd County Purdue Extension Office at (812) 948-5470 or by contacting Gina Anderson, ANR Extension Educator in Floyd County, by email at gmanders@purdue.edu.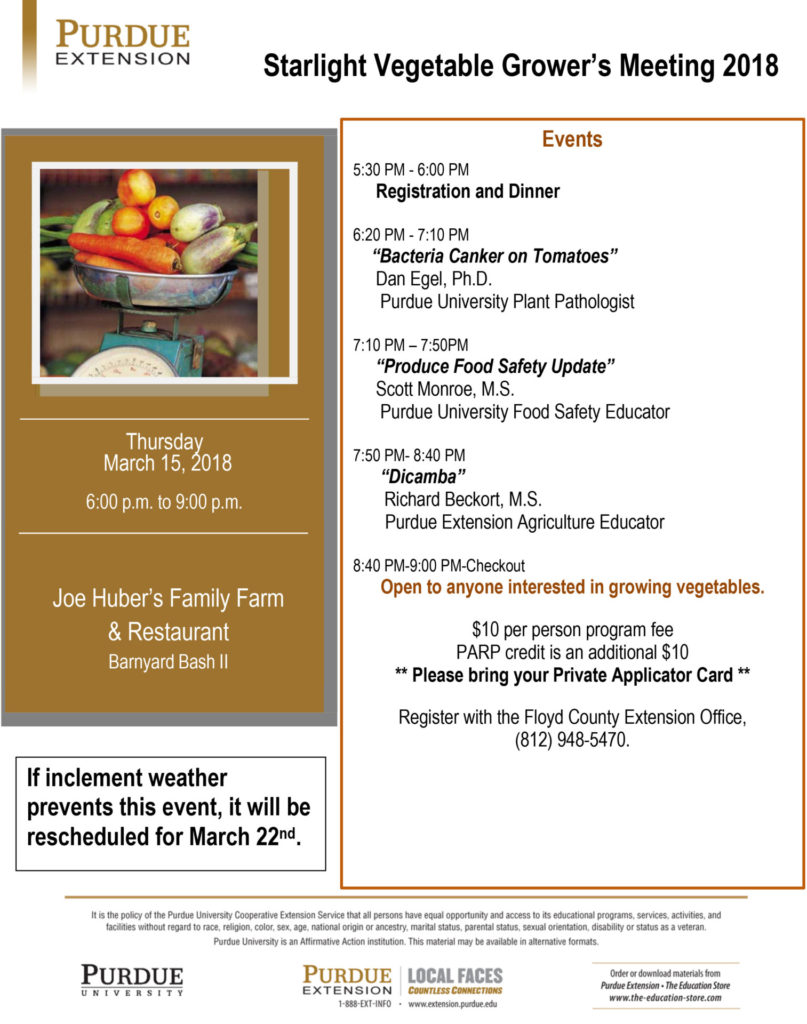 Greenhouse Tomato Short Course
Date: March 6 and 7
Location: Eagle Ridge Conference Center, Raymond, Mississippi
For more information and online registration – http://greenhousetomatosc.com