Southwest Purdue Ag Center High Tunnel Tour
Date: June 13, 2018 7:00-9:00 pm Eastern Time
Location: Southwest Purdue Agricultural Center, 4369 North Purdue Road, Vincennes, IN, 47591
The SWPAC high tunnel tour will be held on the evening of June 13, 2018.
Topics that will be discussed include: Grafting cucumbers for season extension; Seedless cucumber and summer squash variety evaluations in a high tunnel; Different pruning and trellising systems for growing cucumber, tomato and pepper in a high tunnel; Grafting tomatoes for improved yield; Cucumber beetle management; Annual plasticultural strawberry production with an innovative low tunnel system.
Registration will begin at 6:30 pm. The tour is free; to register please call (812) 886-0198. For more information please contact Wenjing Guan (guan40@purdue.edu). This event is sponsored by North-Central Sustainable Agriculture Research and Education.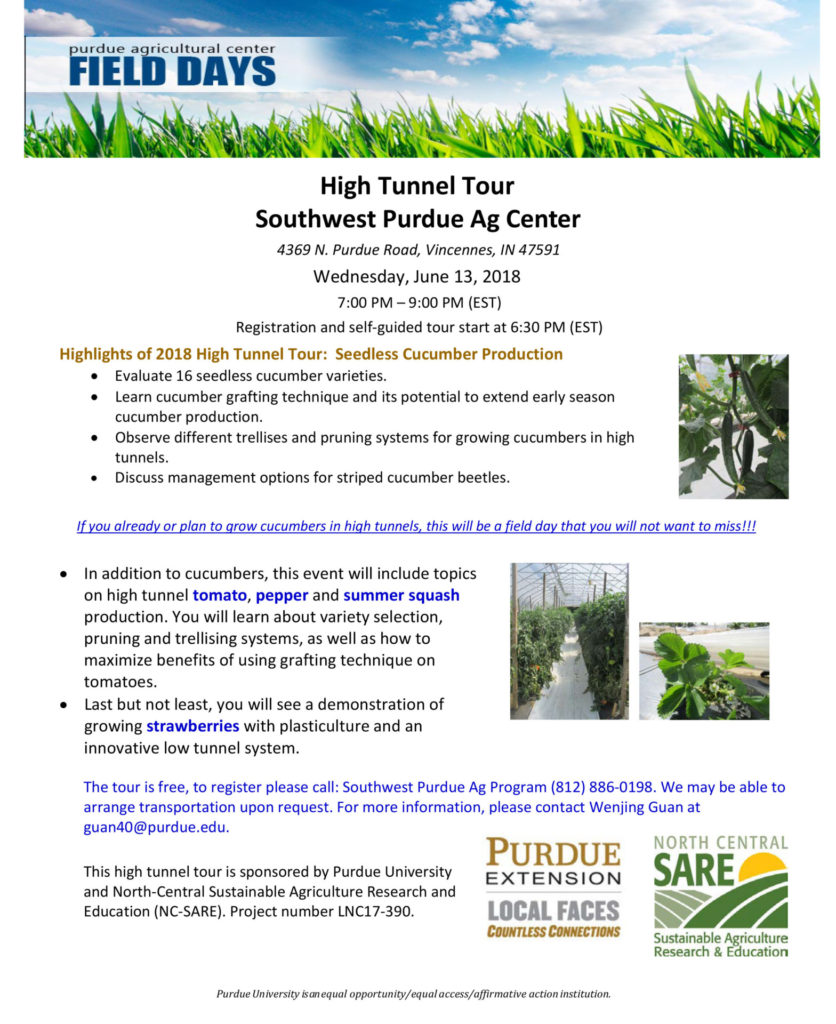 2018 Indiana Hort Society Summer Field Day
Date: June 26
Location: Garwood
Orchard, LaPorte, IN
Please contact Lori Jolly-Brown at ljollybr@ purdue.edu for more information about the field day.
Webinar
Produce Safety for Broccoli Producers
UVM Agricultural Engineer Chris Callahan, Produce Safety Alliance Director Elizabeth Bihn, and their colleagues will present the webinar on Monday, May 14 at 2 p.m. The webinar will include an overview of food safety regulations (coverage thresholds and compliance dates, FSMA, Produce Safety Rule) and broccoli-specific considerations, plus an overview of educational materials being developed through the Eastern Broccoli Project.
Broccoli growers have particular sanitation challenges during cooling and icing, and all vegetable growers are looking for good water management and surface sanitation. Growers considering adding broccoli to their mix may need to make an investment in cooling equipment that meets recent sanitation requirements; this should be an excellent guide for making that investment effectively.
You can find more details about the webinar and a registration form on the Eastern Broccoli Project blog at this link: https://blogs.cornell.edu/easternbroccoliproject/2018/04/24/produce-safety-webinar-for-broccoli-producers/#.Wt991uJmF04.twitter.