Southwest Purdue Ag Center High Tunnel Tour
Date: June 13, 2018 7:00-9:00 pm Eastern Time
Location: Southwest Purdue Agricultural Center, 4369 North Purdue Road, Vincennes, IN, 47591
The SWPAC high tunnel tour will be held on the evening of June 13, 2018.
Seedless cucumber production in high tunnels will be the highlight of this year's event.
You will see 16 cucumber varieties grown in a high tunnel, and be able to taste them.
We will share with you yield results of grafted cucumber plants that have started to produce since middle April in an unheated high tunnel.
You will also see cucumbers grown in the high tunnels with different pruning and trellising systems.
Entomologist Laura Ingwell will join us at the event to discuss cucumber beetle management approaches.
Other things you will see at this event include: summer squashes growing in a high tunnel; different pruning and trellising systems for growing tomato and pepper; annual strawberry production with low tunnel systems.
Registration will begin at 6:30 pm. The tour is free; to register please call (812) 886-0198. For more information please contact Wenjing Guan (guan40@purdue.edu). This event is sponsored by North-Central Sustainable Agriculture Research and Education.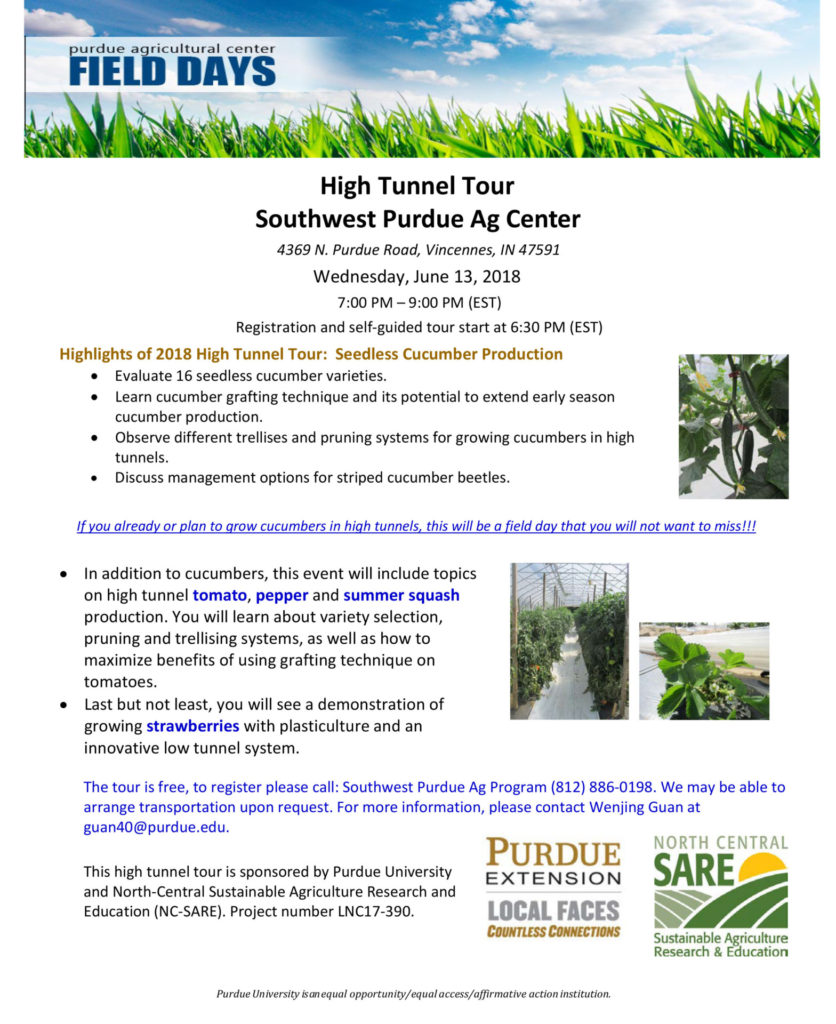 2018 Indiana Hort Society Summer Field Day
Date: June 26
Location: Garwood Orchard, LaPorte, IN
Please contact Lori Jolly-Brown at ljollybr@ purdue.edu for more information about the field day.