Using herbicides with different modes of action is one way to more effectively control weeds and avoid or delay herbicide resistance. But how do you know if you are rotating herbicides properly?
Group Numbers.
Most herbicide labels have a herbicide Group number on the front page, usually above or next to the product's trade name (Figure 1). The Group number is also known as an HRAC/WSSA code. HRAC stands for the "Herbicide Resistance Action Committee" and WSSA stands for the "Weed Science Society of America".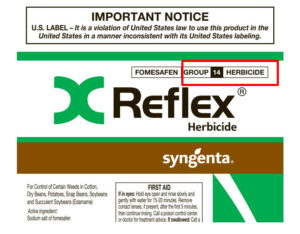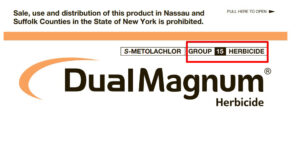 Group Letters.
Some herbicide labels contain a Group letter instead of a Group number (Figure 2). Group letters are another classification system called 'Legacy HRAC code'. In the case of Aim EC, the Legacy HRAC code "E" is equivalent to the Group number 14. For herbicide labels containing a Group letter, consult the HRAC website to determine the Group number: https://hracglobal.com/tools/classification-lookup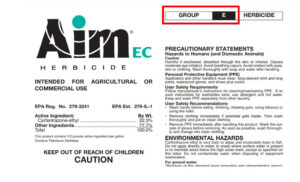 What does it mean when a herbicide label does not contain a Group number or letter?
Herbicides with no Group number or letter have a mode of action that has not been fully understood (Figure 3). They may also be classified as Group 0 using the HRAC/WSSA code system or Z/N using the Legacy HRAC code system.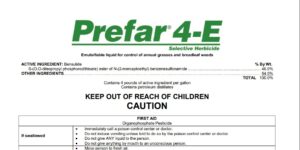 Putting it all together.
After identifying herbicide Groups, we need to plan a herbicide rotation in which we avoid using the same herbicide Group more than once each season. See the example of herbicide rotation in pumpkin (Table 1). Moreover, it is also possible to rotate the herbicides depending on the crop rotation plan. See the example of herbicide rotation in three crops (Table 2).
Table 1. An example of using different herbicide Group numbers in a single growing season.

Table 2. An example of a three-year vegetable crop rotation with proper herbicide Group rotation.
*To see more information about the new Indiana 24(c) Special Local Need label for select vegetables, click here: https://vegcropshotline.org/article/reflex-herbicide-now-registered-for-use-in-select-indiana-vegetables/
Additional resources.
The printed and online versions of the Midwest Vegetable Production Guide also contain Group numbers and serve as an excellent resource to help properly rotate herbicides.
Order the printed Midwest Vegetable Production Guide here: https://app.thebookpatch.com/BookStore/midwest-vegetable-production-guide-for-commercial-growers-2022/5a453903-1f7f-4108-b17b-fe3ef6791ebe
Use the searchable online Midwest Vegetable Production Guide here: https://mwveguide.org/