Tomato Grafting Workshop 
Date: November 14, 16,17, 2016 2:00 PM to 3:00 PM (EST)
Location: Southwest Purdue Ag Center (SWPAC), 4369 N. Purdue Road, Vincennes, IN
Grafting has the potential to control soilborne diseases and increase yield of high tunnel grown tomatoes. Grafted tomato transplants cost about $2-$4 per plant. High cost prevents growers using this technology. By developing a simple system, grafting tomatoes can be conducted at your own farms. To help tomato growers learn grafting technology, we plan to organize tomato grafting workshops at SWPAC this fall. The workshops will be conducted on Nov. 14, 16, 17, from 2:00 pm to 3:00 pm (EST). The workshop is free, but please call us to register and pick the day that works best for you. To ensure every participant receives adequate hands-on practice opportunity, no more than 10 participants will be accepted on each day.  To register, please call (812) 886-0198.
Southwest Indiana Melon and Vegetable Growers' Technical Meeting 
Date: November 28, 2016 5:00 PM to 8:00 PM (EST)
Location: Southwest Purdue Ag Center (SWPAC), 4369 N. Purdue Road, Vincennes, IN
The meeting will start at 5:00 P.M. for board members to discuss topics for the March meeting. Any member who wants to participate in the discussion is welcome. At 6:00 P.M., dinner will be served. Following that, we will showcase variety trials conducted at SWPAC in 2016, which include seedless watermelons, cantaloupes, personal-sized watermelons, and seeded watermelons. Any grower interested in becoming a member is invited to attend. Membership dues are $15 per year and can be paid at the meeting. To register please call (812) 886-0198. Registration is due by Nov. 22. Any questions, please contact Wenjing Guan at guan40@purdue.edu 
Illiana Vegetable Growers Symposium
Date: January 5, 2017 8:00 A.M. to 4:00 P.M. CST
Location: Teibel's Family Restaurant, 1775 US 41, US 30 & US 41, Schererville, Indiana
Registration will be available in December. For more information, please contact vegcrops@purdue.edu or (219) 548-3674. Updated information will be available at http://tinyurl.com/ivgs2017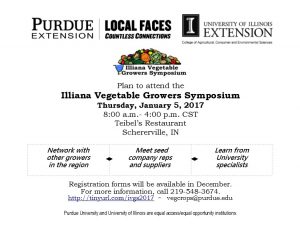 Indiana Horticultural Congress – Note New Date and Venue
Date: January 10-12, 2017
Location: Indianapolis Marriott East Hotel, 7202 East 21st Street, Indianapolis, IN  46219
The Indiana Horticultural Congress is an educational meeting designed to meet the needs of fruit, vegetable, wine, organics, and specialty crop growers and marketers in Indiana and surrounding states. All interested individuals are invited to attend. For hotel reservations: Book your group rate for Indiana Horticultural Congress & Trade Show  on-line, or call  (800) 991-3346 and state you are making a reservation for the Indiana Horticultural Congress, Indianapolis Marriott East.
Aquaponics Conference 
Date: October 28-29, 2016
Location: Kokomo Event & Conference Center, 1500 N. Reed Road in Kokomo
Aquaponics is a system that combines fish rearing and vegetable production. Topics include food safety of vegetables, pest control in aquaponics operations, indoor environmental conditions, vegetables for aquaponics, greenhouse structures and fish in aquaponics operations.
Early-bird registration fee through Sept. 18 is $90 for Indiana Aquaculture Association Inc. (IAAI) members and $100 for non-members. After that date, registration is $100 for IAAI members and $125 for non-members. An optional tour of Green River Greenhouse can be added for an additional $20 per person. Registration is available at www.indianaaquaculture.com.