Indiana Fruit & Vegetable Field Tour
The tour will be held at Tuttle Orchards, 5717 North 300 West Greenfield IN 46140, June 28, 9:00 am -4:00 pm. On-site registration 9 am at Tuttle Orchard. Registration fee is $5 per person. For further questions contact Lori Jolly-Brown at ljollybr@purdue.edu or (765) 494-1296.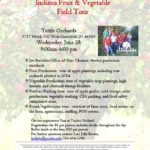 Southwest Purdue Ag Center Field Day 
Southwest Purdue Ag Center Field Day will be held on June 29, 2017 at Southwest Purdue Agricultural Center, Vincennes, IN.
The field day provides two choices of tours: Horticultural Crop Production and Agronomic Crop Production. The Horticultural Crop Production tour will feature Organic Tomato Production, High Tunnel Vegetable Production, Grape Research, Protecting Pollinators while Managing Insect Pests in Watermelon Production, and Produce Food Safety. A meal will accompany the tour with PARP classes available after lunch. Please contact Barb Joyner (joynerb@purdue.edu, (812) 886-0198) for registration, or register online at https://purdue.qualtrics.com/jfe/form/SV_0rICQrMVJmiMnqZ.
Organic Vegetable Seed Production & Varietal Selection Workshop 
The workshop will be conducted on August 22, 2017, 9:00 am – 3:00 pm. Daniel Turf Center, 1340 Cherry Ln, West Lafayette, IN, 47907. Topics include Seed biology fundamentals; Harvesting, processing, and storing seed; Population size and isolation requirements; Managing pathogens during seed production and after harvest; On-farm variety trialing and participatory breeding techniques. Registration fee is $15 including workshop and lunch. Register at http://tinyurl.com/y7da7dsh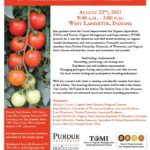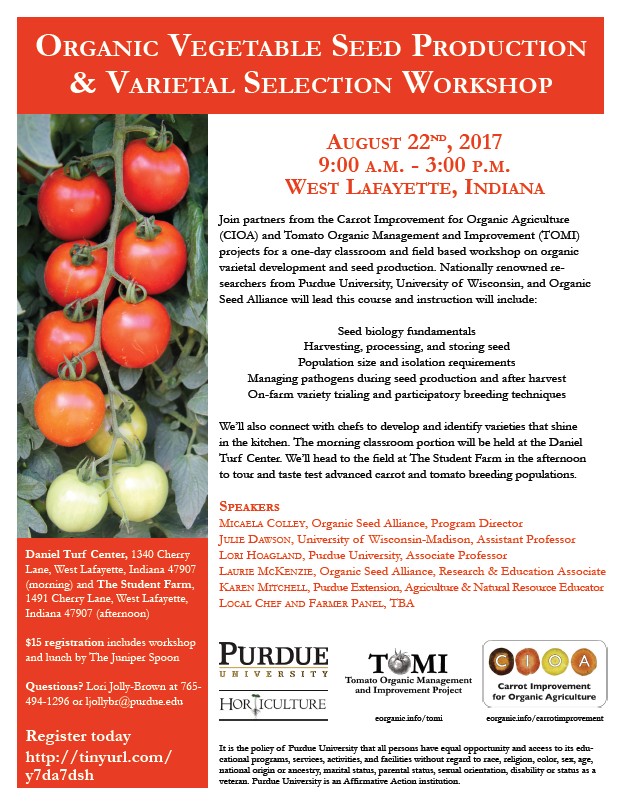 Beginning Farmer Tours and Workshops 
Join Purdue's beginning farmer team for farm tours in 2017.
June 24. Silverthorn Farm near Rossville, IN uses organic practices to produce a wide variety of fruits and vegetables. The tour will include a session on working with restaurants.
September 11. Two tours for the price of one! Tour Little Prairie Farms, a small acreage vegetable farm near Brookston, IN, and the Purdue Student Farm near West Lafayette to learn about farming practices and tools for small acreage farms.
September 27. Full Hand Farm is a diverse vegetable farm located near Noblesville, IN. The tour will include information on the use of high tunnels in vegetable production.
October 2. Aficionado Farms produces organically grown produce, herbs, and flowers near Elberfeld, IN. Learn about their farm and Farm to School programs.
More information about these tours are available at http://www.cvent.com/events/beginning-farmer-tours-and-workshops/event-summary-0f7526f0380a432788708b2f2edcf1e7.aspx