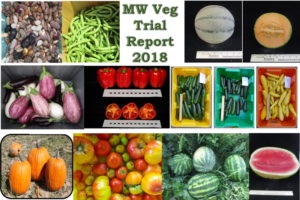 Looking for information about new crop varieties? Reports from trials conducted in 2018 are available online at https://ag.purdue.edu/hla/fruitveg/Pages/mvtr2018.aspx. You will find reports on variety performance of widely-grown crops such as sweet corn, pumpkin, summer squash and zucchini, melon, watermelon, picking cucumber, and bell pepper, as well as specialty crops including heritage beans, and mole and other specialty peppers.
Crops evaluated in high tunnels included Italian eggplant, colored sweet pepper, summer squash and zucchini, and tomato. One of the tomato trials evaluated varieties in a no-till system following cover crops. The other tomato trial compared soil blocks and pots for transplant production, and included six varieties grown to harvest in both high tunnel and field.
The Midwest Vegetable Trial Reports are just one place to find vegetable research reports from Land Grant Universities. The list below provides links to reports from other programs in the Great Lakes Region, Midwest, and Northeast.
Delaware Variety Trial Results http://extension.udel.edu/ag/vegetable-fruit-resources/vegetable-small fruits-program/variety-trial-results/
Kentucky Univ. Kentucky – Dept. of Horticulture – Commercial Vegetables – Research Reports http://www.uky.edu/hort/documents-list-commercial-vegetable
Maine Cooperative Extension at Highmoor Farm https://extension.umaine.edu/highmoor/research/
Massachusetts UMass Vegetable Program – Field Trials https://ag.umass.edu/vegetable/outreach-project/field-trials
New Hampshire Applied Vegetable & Fruit Research in New Hampshire https://extension.unh.edu/tags/applied-vegetable-fruit-research-new-hampshire
New Jersey Rutgers Variety Trials Archive https://nj-vegetable-crops-online-resources.rutgers.edu/variety-trials-archive/
New York
Cornell Processing Vegetable Variety Trials https://hort.cals.cornell.edu/research/labs/reiners-lab/processing-vegetable-variety-trials/
Cornell Cooperative Extension – Vegetable Program Database, search for 'variety' https://cvp.cce.cornell.edu/search_results.php?q=variety&x=0&y=0
Ohio The Ohio State University – CFAES – VegNet https://vegnet.osu.edu/pest-management/vegetable-trials
Ontario Univ. of Guelph – Muck Crops Research Station https://www.uoguelph.ca/muckcrop/annualreport.html
Rhode Island Univ. of Rhode Island Vegetable Production Research Reports https://digitalcommons.uri.edu/riaes_bulletin/
Wisconsin
Northern Organic Vegetable Improvement Collaborative (NOVIC) http://www.uworganic.wisc.edu/novic/
Seed to Kitchen Collaborative https://seedtokitchen.horticulture.wisc.edu/trial-results.html
U.S. Organic Organic Variety Trial Reports https://varietytrials.eorganic.info