This winter-spring has been my first excursion into growing strawberries in a high tunnel. It didn't take much for our own Wenjing Guan to convince me to plant some; who doesn't love to eat fresh strawberries? We planted them back in October and I just peeked at them every couple of weeks throughout the winter, looking for hungry herbivores wanting to share the impending treats. There were spider mites at first (Figure 1) and we made a few releases of the predatory mites Phytoseiulus persimilis and sachets containing Amblyseius (Neoseiulus) Californians.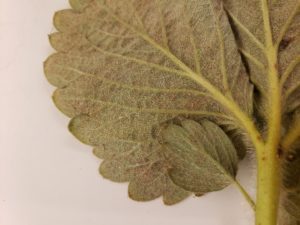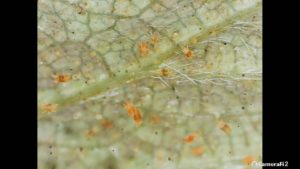 Figure 1. Two-spotted spider mites on strawberry leaves (above) and under a microscope camera (below).
This spring, when the weather started warming up and the extra cover was lifted inside the tunnels we found less mites, almost none at all at this point, but an explosion of aphids (Figure 2) and an increasing presence of whiteflies (Figure 3). The whiteflies take a bit more patience to locate, but now that I know they are there I shake the plants to dislodge them while I am conducting my surveys. The aphids, in such high numbers, are easy to spot by looking for the shiny honeydew excretions on the row covers (Figure 4). While I wait patiently for some commercially-purchased lacewing larvae to arrive to help control the aphid populations, I am enjoying watching syrphid fly larvae feast on them (Figure 5). For now, I will continue to monitor the whiteflies and begin to enjoy the tasty fruits of my labor.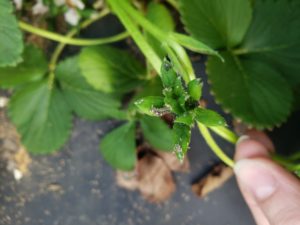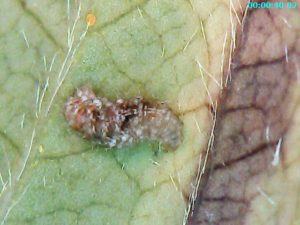 Figure 5. A syrphid fly larvae feasting on aphids in a developing bud (above) and under a microscope (below).