Southwest Purdue Ag Center Field Day
Save the date June 29 for Southwest Purdue Ag Center Field Day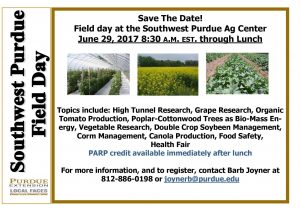 Beginning Farmer Tours and Workshops 
Join Purdue's beginning farmer team for farm tours in 2017.
June 15. Clay Bottom Farm near Goshen, IN uses intensive growing methods to support a CSA program on less than an acre of land. Learn about their 'lean farm" approach to support a CSA, supply restaurants, and sell at farmers' markets.
June 24. Silverthorn Farm near Rossville, IN uses organic practices to produce a wide variety of fruits and vegetables. The tour will include a session on working with restaurants.
September 11. Two tours for the price of one! Tour Little Prairie Farms, a small acreage vegetable farm near Brookston, IN, and the Purdue Student Farm near West Lafayette to learn about farming practices and tools for small acreage farms.
September 27. Full Hand Farm is a diverse vegetable farm located near Noblesville, IN. The tour will include information on the use of high tunnels in vegetable production.
October 2. Aficionado Farms produces organically grown produce, herbs, and flowers near Elberfeld, IN. Learn about their farm and Farm to School programs.
More information about these tours are available at http://www.cvent.com/events/beginning-farmer-tours-and-workshops/event-summary-0f7526f0380a432788708b2f2edcf1e7.aspx