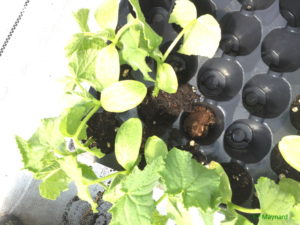 Answers to the 4-9-2020 What's That?
Q.Who is resting in this tray of cucumber seedlings that is on the floor in a high tunnel?
A. American Toad.
Learn more from the one-pager from NH Public Broadcasting Service here, or the book Frogs and Toads of Indiana from Purdue Extension, and hear the breeding call here from Purdue Forestry and Natural Resources (FNR). School children at home? Check out the amphibian curriculum from Purdue FNR.
Q. Aid to pest management?
A. American toads eat insects (both beneficials and pests), spiders, earthworms, slugs, and other invertebrates. It's hard to say whether they would make a real difference in cucumber pest management in a high tunnel. Our entomologist's best guess is probably not.
Q. Food safety concern?
A. A toad could be a food safety issue. Toads and other amphibians can be a source of contamination, e.g. Salmonella. This early in the production cycle the recommended action would be to remove the toad and manage the environment to reduce attractive habitats for toads.
Comments: