---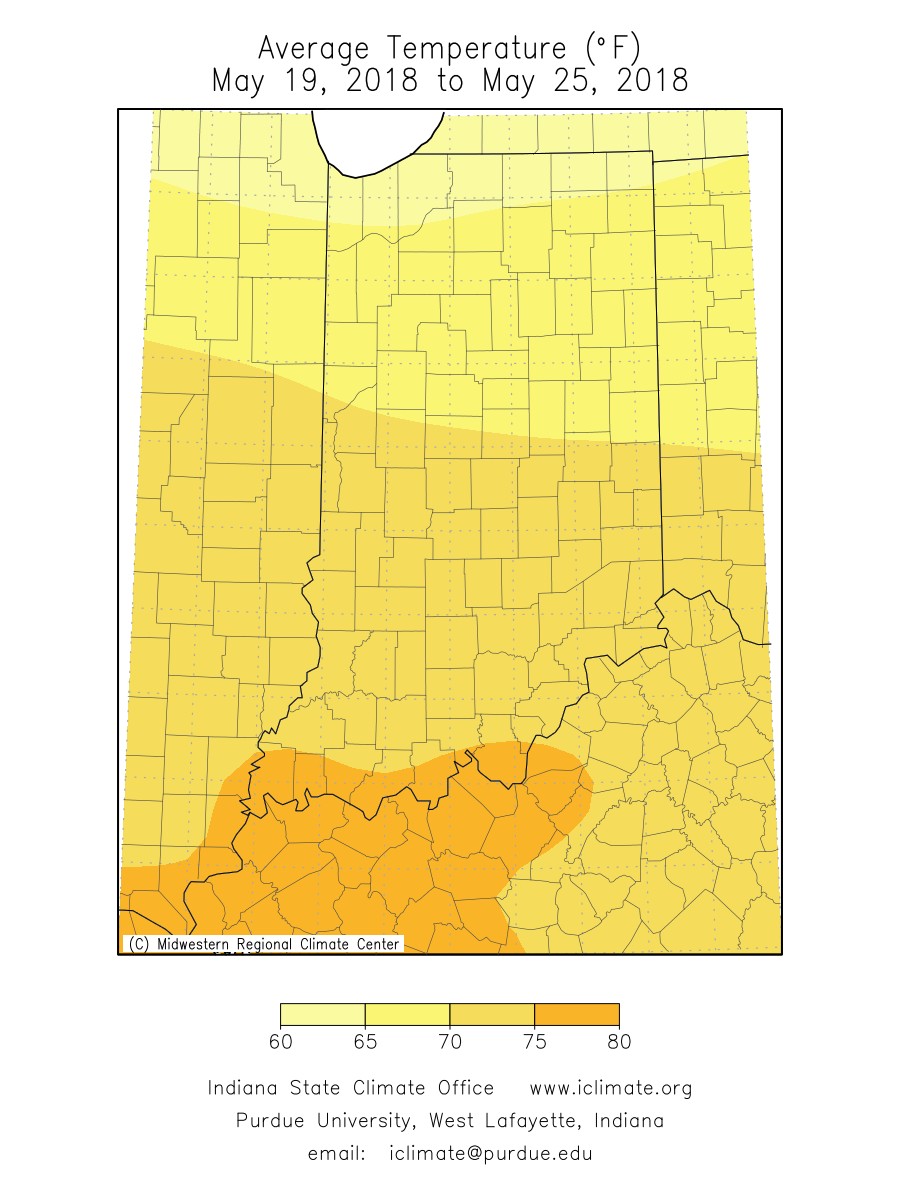 ---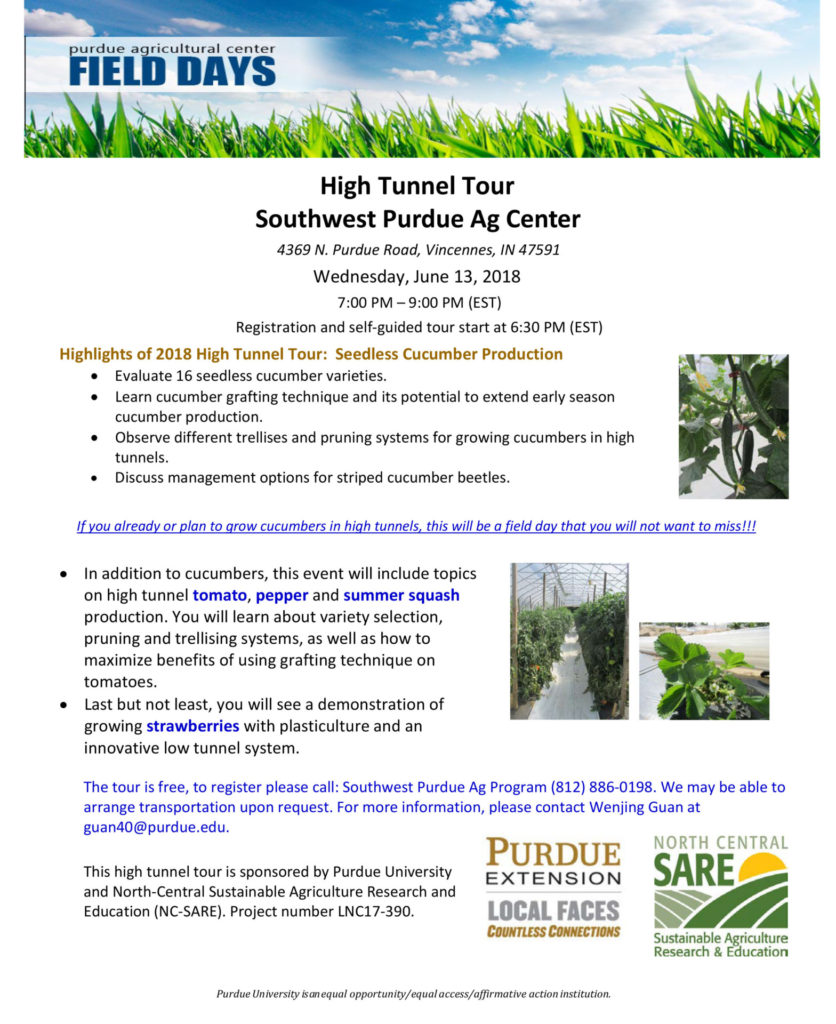 Southwest Purdue Ag Center High Tunnel Tour Date: June 13, 2018 7:00-9:00 pm Eastern Time Location: Southwest Purdue Agricultural Center, 4369 North Purdue Road, Vincennes, IN, 47591 The SWPAC high tunnel tour will be held on the evening of June 13, 2018. Seedless cucumber production in high tunnels will be the highlight of this year's event. You will see 16 cucumber varieties grown in a high tunnel, and be able to taste them. We will share with you yield results of grafted cucumber plants that have started to produce since middle April in an unheated high tunnel. You will also see cucumbers grown in the high tunnels with different pruning and trellising systems. Entomologist Laura Ingwell will join us at the event to discuss cucumber beetle management approaches. Other things you will see at this event include: summer squashes growing in a high tunnel; different pruning and trellising systems for growing tomato and pepper;[Read More…]
---
Would you like to learn more about biological control and how to use it successfully? New York State Integrated Pest Management biocontrol specialist Amara Dunn has a new blog – "Biocontrol Bytes" (https://blogs.cornell.edu/biocontrolbytes/). Short articles are posted approximately once a month to share information, answer stakeholder questions, and connect readers to other relevant resources. Subscribe using the green button on the right side of the page in order to receive email updates when new articles are posted.
---
Three videos on in-row weeding tools (Finger weeder, Torsion weeder, Tine harrow) were developed at the Michigan State University Department of Horticulture. Each video is 20 minutes: introduces the tool, how it works, different models, show adjusting the tool in the field, and a short interview with a farmer who uses the tool. These videos can be accessed at the MSU Mechanical Weed Control Channel https://www.youtube.com/channel/UCH-k889oYbUaEznvgiDtrOQ
---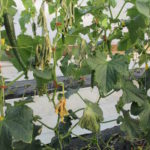 Bacterial wilt is one of the most destructive diseases in high tunnel cucumber production. The reason bacterial wilt is so important is because, like other wilt diseases, it ties up with the entire vascular system of a plant, causing systemic effects (Figure 1). The relatively less important roles that other cucumber diseases play also make bacterial wilt the major limitation for high tunnel cucumber production in Indiana. For example, common cucumber diseases such as angular leaf spot, anthracnose and Alternaria leaf blight seldom occur in a high tunnel scenario; improved resistance to powdery mildew was observed in some of the newly developed cucumber varieties; downy mildew in general does not occur in Indiana until end of the high tunnel cucumber production season. The causal organism for bacterial wilt of cucumbers is Erwinia tracheiphila. After the bacteria enter the plant vascular system, it multiplies quickly. As a result, it interferes with[Read More…]
---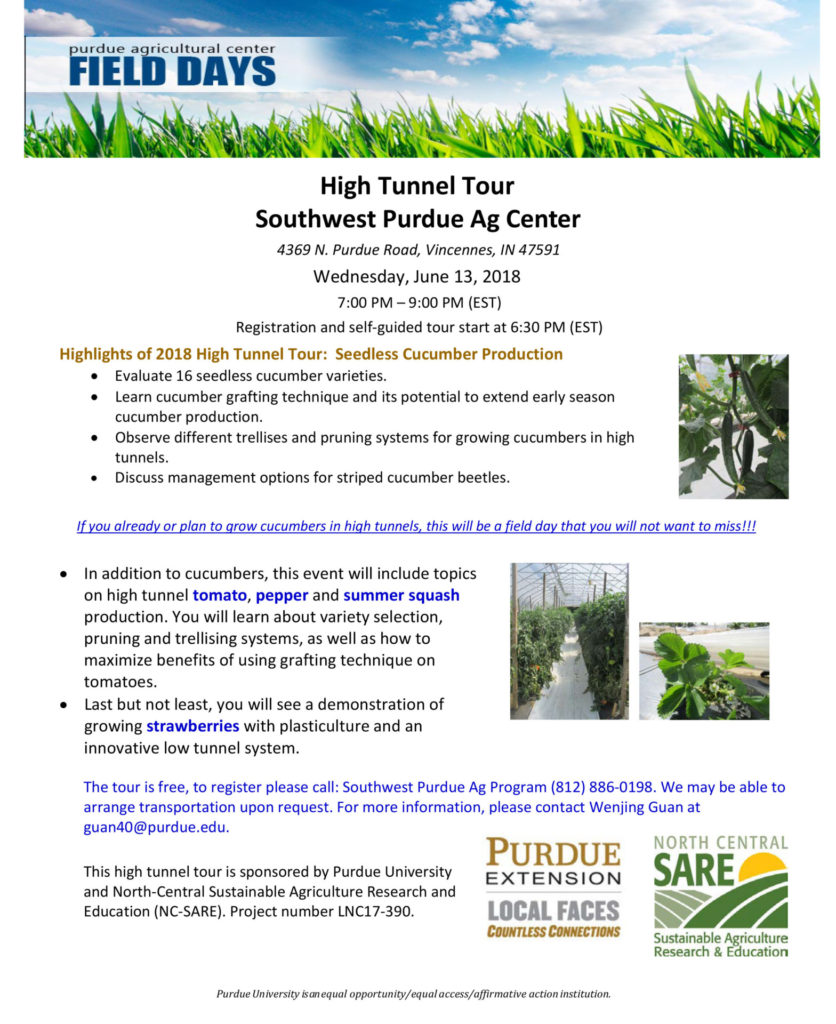 Southwest Purdue Ag Center High Tunnel Tour Date: June 13, 2018 7:00-9:00 pm Eastern Time Location: Southwest Purdue Agricultural Center, 4369 North Purdue Road, Vincennes, IN, 47591 The SWPAC high tunnel tour will be held on the evening of June 13, 2018. Topics that will be discussed include: Grafting cucumbers for season extension; Seedless cucumber and summer squash variety evaluations in a high tunnel; Different pruning and trellising systems for growing cucumber, tomato and pepper in a high tunnel; Grafting tomatoes for improved yield; Cucumber beetle management; Annual plasticultural strawberry production with an innovative low tunnel system. Registration will begin at 6:30 pm. The tour is free; to register please call (812) 886-0198. For more information please contact Wenjing Guan (guan40@purdue.edu). This event is sponsored by North-Central Sustainable Agriculture Research and Education. 2018 Indiana Hort Society Summer Field Day Date: June 26 Location: Garwood Orchard, LaPorte, IN Please contact[Read More…]
---
Nematology lab at Purdue University will be closing at the end of June. The first of June is the last day the lab will accept samples. A list of private and public nematology labs can be found here. Please contact these labs for their requirements for nematode sample submission. Click here to view the listing for private and public nematology laboratories.
---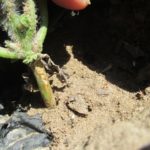 This article provides more detailed information about this herbicide. How does Chateau® herbicide work Chateau® is a group 14 mode-of-action herbicide. Compounds in this group are most active on broadleaf weeds. Before Chateau® became available,  no other preemergence herbicide with the same mode of action was labeled for use in watermelons and cantaloupes. The active ingredient of Chateau® herbicide, flumioxazin, controls susceptible weeds by inhibiting propoporphyrinogen oxidase (PPO), an enzyme that controls chlorophyll synthesis. Because of chlorophyll production inhibition, a chain reaction occurs within the plant that causes cell membrane disruption. Chateau® herbicide can assist in the postemergence control of emerged weeds. It is taken up by roots, stems, or leaves of young plants. It kills weeds through direct contact. There is usually little or no translocation of the herbicide within plants. Foliage necrosis can be observed after 4 to 6 hours of sunlight following the herbicide application. Susceptible plants[Read More…]
---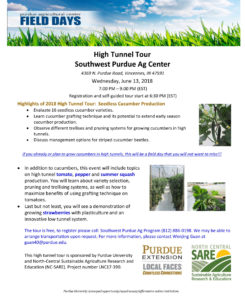 Southwest Purdue Ag Center High Tunnel Tour Date: June 13, 2018 7:00-9:00 pm Eastern Time Location: Southwest Purdue Agricultural Center, 4369 North Purdue Road, Vincennes, IN, 47591 The SWPAC high tunnel tour will be held on the evening of June 13, 2018. Attendees will have the opportunity to see a wide range of research projects being conducted in high tunnels at SWPAC. Topics that will be discussed include: Grafting cucumbers for season extension; Seedless cucumber and summer squash variety evaluations in a high tunnel; Different pruning and trellising systems for growing cucumber, tomato and pepper in a high tunnel; Grafting tomatoes for improved yield; Cucumber beetle management; Annual plasticultural strawberry production with an innovative low tunnel system. Registration will begin at 6:30 pm. The tour is free, to register please call (812) 886-0198, for more information please contact Wenjing Guan (guan40@purdue.edu). This event is sponsored by North-Central Sustainable Agriculture Research[Read More…]
---